We decided on 2 different types of "guestbooks." One was essentially a communal painting and the other is a set of anniversary cards that we will eventually put into a book.
We bought a large rectangular canvas, acrylic paints, and some paintbrushes to set up at the reception. We both loved the saying, "Home is wherever I am with you," so we ordered the saying in vinyl letters and affixed them to one corner of the canvas. That phrase is particularly fitting given our long distance relationship and the ocean that separates our two families and upbringings. As long as I am with Felix, I will always be home.
Chitbodhi, my friend from language school, Flor, and her husband, Aria
Felix's cousins, Nina and Levin
We asked our guests to paint whatever they wanted onto the canvas and make sure the whole thing was covered. The next morning, after the paint had dried, we peeled off the vinyl letters and exposed the words.
Currently, it is hanging above our couch and is a daily reminder of the love and joy we experience on that day.
At the reception, we handed out colored pens and these cards as part of our second guestbook. I ordered some blank solid colored cards and patterned envelopes from
time2split on Etsy
. She was fantastic to work with. The sizes of cards that she offered were a bit too small for what we wanted. I messaged her through Etsy and she was so friendly and helpful. She agreed to make a custom listing for me with the size and colors we wanted. The patterns are fun and happy.
I numbered each envelope with a year between 1 and 40. Each year on our anniversary, Felix and I will open that year's card and read the message left for us by a loved one. Unfortunately we still have a few cards left over, but I think they aren't until somewhere around year 30, so we have some time to figure out what to do with those. Ha, ha! I'd like to have some of my relatives write in some of the cards, but I don't know how they'd feel about being asked to do that after the wedding.
Right now they're sitting in a stack on our bookshelf waiting to be put in a book. It's tempting to read them because the envelopes aren't sealed, but we haven't peeked in a single one!
We've already picked out the book style we want to put them in, but it's a bit pricey for something we don't have to have right now, so it's on hold.
They are the same book, but different sizes and one has painted details.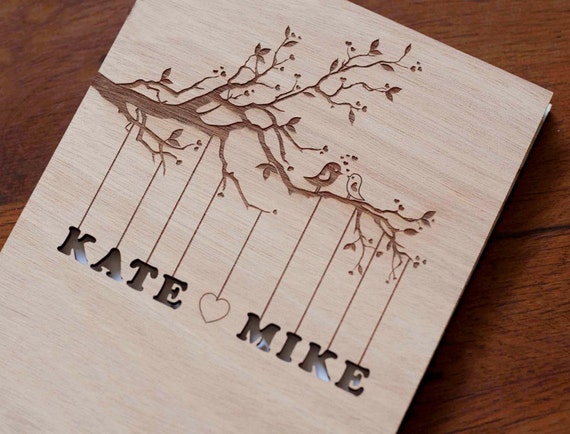 http://www.etsy.com/listing/93336925/custom-wedding-guest-book-w
ood-rustic?ref=usr_faveitems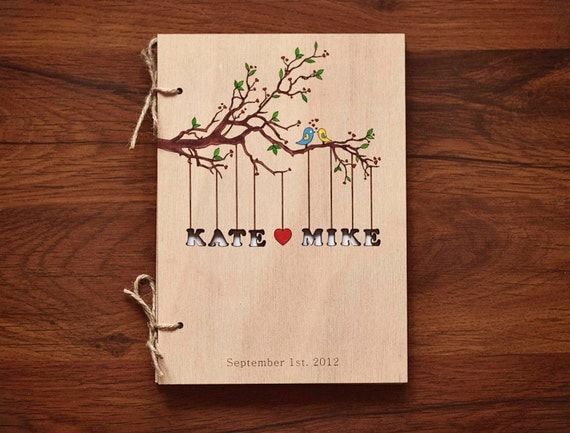 http://www.etsy.com/listing/95013168/custom-wedding-guest-book-wood-rustic?ref=usr_faveitems
I knew we wouldn't ever look at signatures in a traditional guestbook and Felix wasn't a fan of the thumbprint trees. These two "guestbooks" will help us remember our guests and be something we will actually enjoy and appreciate for years to come.